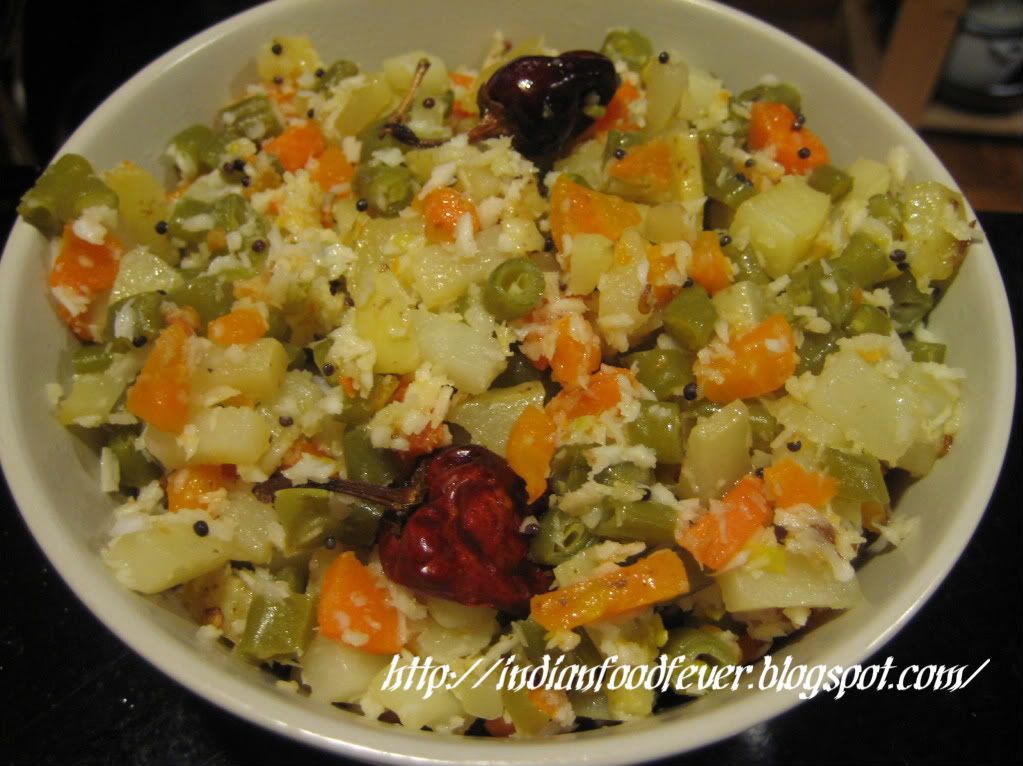 Upkari in Konkani means vegetables stir-fried in minimum oil and garnished with fresh coconut. In most konkani households, dinner is usually paij (rice soup) with an upkari. A konkani blog without a recipe for upkari is like a North Indian restaurant that does not serve Naan/Roti.
Upkari can be made with different kinds of vegetables. Most popular being alsande upkari(long beans), tendli upkari( ivy gourd), bhenda upkari( with okra). A small potato can usually be added with alsande or tendli upkari. The most popular upkari is bibbe upkari, which combines tendli (ivy gourd) with cashewnuts. Bibbe in konkani means cashews and god...they are so good!! I cannot find the bibbe here in montreal, I will post the recipe when I find them.
Usually after I make kolmbo(sambar) or pulao during the week, I find that I have a few beans, carrots and potatoes left. So I combine them together and make this "flag" upkari. I like to call this the flag upkari because it has orange, white and green colors representing the Indian flag :)
If you are watching your diet, you can reduce the oil to just 1 tsp and cook it in a non-stick pan and also bring down the amount of coconut.
Enjoy this recipe...

What you will need:

Green Beans - 5 to 6
Carrots - 1 or 2 small
Potato - 1
Red chillies - 2
Mustard seeds - 1 tsp
Oil - 2 tsp
Warm water - 1/4 cup
Coconut - 2 tbsp
Salt to taste
How to prepare:
Wash the vegetables thoroughly and cut them into small pieces about the size shown in the picture above.

Heat oil and add mustard seeds. When they splutter, add the red chillies. Saute for about 30 seconds and then add the vegetables. Saute for another minute. Add salt and warm water. Lower the flame and cook the vegetables on a low flame. Check in between to see that the vegetables are not sticking to the bottom of the pan. If all the water has been dried up, you can sprinkle some more water. Cover and cook until the vegetables are done. Turn the heat off and garnish with freshly shredded coconut.

Serve the upkari with rice and dalitoy(dal) or with rice and rasam / tomato saru.

This entry was posted on Saturday, December 19, 2009 at Saturday, December 19, 2009 and is filed under
All
,
Dry Vegetables
. You can follow any responses to this entry through the
comments feed
.