I had been to US to visit my husband's cousin. That is where I first had this fish preparation. It was nice and spicy. I have been wanting to try preparing this at home for a long time. Finally, I prepared this fish last night and the whole house smelled of fish and garlic. The combination of curry leaves, asafoetida, fish and garlic brings out a great flavour.
What you will need:
Fish (Mackrel) - 6 to 8 pieces
Red chilli powder - 3 tsp
Rice flour - 3 tsp
Gram flour (besan) - 1 tsp
Asafoetida - dissolved in water
Garlic - 8 to 10 pods, finely chopped
Curry leaves - 2 strands
Oil - 3 tbsp
Salt to taste

How to prepare
Mix the red chilli powder with rice flour, salt and gram flour. Add the asafoetida dissolved in water to make a paste. Apply this paste to the fish and leave it to marinate for 2 to 3 hours. I usually leave it in the refrigerator overnight.
Heat oil in a wide pan. Add curry leaves. Place the fish pieces in the oil one by one. Cover and cook until the first side is cooked. Now carefully flip the fish pieces.
Sprinkle the chopped garlic on the fish. Cover and cook the other side.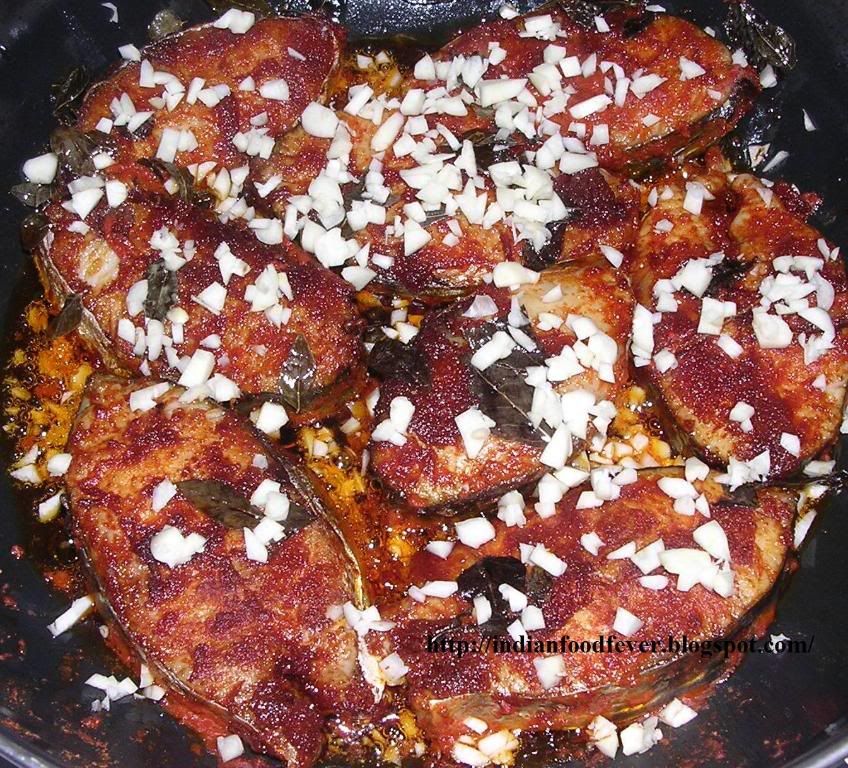 Turn the heat off and keep the pan covered for an additional 10 minutes. Serve hot.
This entry was posted on Tuesday, May 26, 2009 at Tuesday, May 26, 2009 and is filed under
Fish
. You can follow any responses to this entry through the
comments feed
.