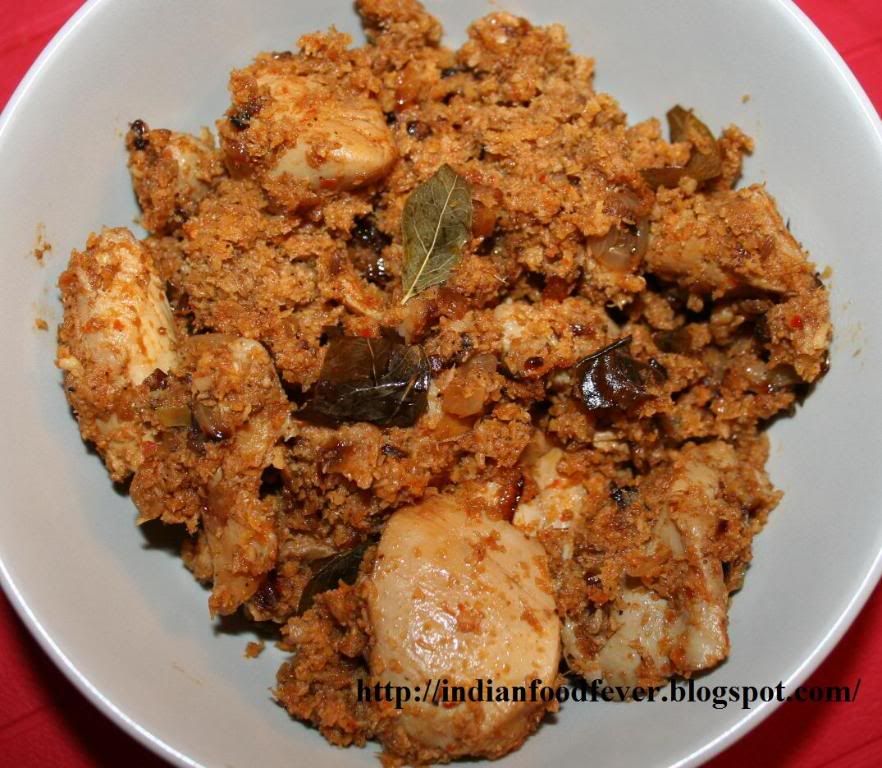 What you will need:
Chicken - 12 pieces, cut into small cubes
Whole dry red chillies - 12 to 15 (or less if you do not like it too hot)
Onions - 2 medium, finely chopped
Turmeric powder - 1/4 tsp
Coconut grated - 1.5 cups
Clarified butter / Ghee - 3 tbsp
Tamarind - lemon sized, exctract a thick juice
Garlic - 12 - 15, finely chopped (Use 6 - 8, if using american garlic)
Curry leaves - 2 strands
Poppy seeds - 2 tbsp
Black peppercorns - 6 to 8
Caraway seeds (shahi jeera) - 1 teaspoon
Green cardamoms - 2 to 3
Fenugreek seeds - 1/2 tsp
Coriander seeds - 1 tbsp
Cumin seeds - 1 tsp
Salt to taste

How to prepare
Dry roast poppy seeds, black peppercorns, caraway seeds, coriander seeds, green cardamoms, fenugreek seeds and cumin seeds. Cool and grind with coconut and 12 red chillies to a coarse paste, adding the tamarind juice. Add the cumin seeds and grind coarsely. The coconut mixture should be dry and coarse.
Heat half of the ghee in a pan. Add chopped garlic and 2 whole dry red chillies. Add salt and turmeric powder. Now add the chicken pieces and cook until the chicken is almost cooked on a low flame without adding water. Add the coconut and spice mixture and cook for another 5 to 10 minutes until the chicken is completely done.
Heat the remaining ghee in a pan. Add the curry leaves, stir-fry briefly and then add the chopped onion. Fry the onion until golden brown and pour it over the cooked chicken. Serve hot.
This entry was posted on Tuesday, May 26, 2009 at Tuesday, May 26, 2009 and is filed under
Chicken
. You can follow any responses to this entry through the
comments feed
.